What is Nisos® Managed Intelligence™
Nisos® is the Managed Intelligence™ company. People often ask us what we mean when we say "Managed Intelligence™." This blog will answer that question.
What is Managed Intelligence™?
Not all intelligence is created equal. Most cyber industry experts are familiar with these general intelligence categories: 
Threat Intelligence 

Cyber Threat Intelligence 

External Threat Intelligence
Managed Intelligence™ is how Nisos combines these core intelligence capabilities to deliver a more meaningful and robust set of timely, relevant, and actionable research for clients.
Comparing Intelligence Types
Threat Intelligence encompasses knowledge and data about threats to company assets that can be used to inform and assist in decisions for prevention and response to that threat. 
Cyber Threat Intelligence, often used interchangeably with the former, would then encompass that particular domain within threat intelligence that focuses on digital data (as opposed to, for example, a physical threat). 
External Threat Intelligence is distinguished as information outside of a client's "internal information control" or outside of their internal telemetry, such as deep/dark web or social media. 
Managed Intelligence™ is the intersection of the critical data and the humans analyzing and delivering that information in a meaningful manner. 
Threat Intelligence is obviously critical for any security team, but you need the right mix of skills, experience, automation, and analytic expertise to manage the influx of this complicated information. Managed Intelligence™ teams begin with the numerous intelligence feeds. That data is compared against data that hasn't been ingested or requires more active collection techniques, and is bolstered by a combination of subject matter experts (analytic, technical, data science) backed by engineering and R&D teams.
Simply put, you receive aggregated high quality intelligence that is examined and scrutinized by a robust threat intelligence engine and then reviewed and researched by a cadre of elite SMEs with tactical expertise.
It can take years, substantial investment, and a robust training program to develop that capability in house. That's why we created Nisos Managed Intelligence™ services that enable security teams to tackle any threat – particularly those that traditional collection platforms are missing.
Why Should You Care About Managed Intelligence™?
Information is not intelligence. "Intelligence feeds" often contain very meaningful and relevant information, but not curated intelligence. Intelligence requires exploitation, analysis, and timely dissemination of that information to change outcomes. 
Nisos Managed Intelligence™ brings the combination of 3 key pieces:
Intelligence feeds and curation (information), 

Exploitation and analysis (automation, data scientists, investigators, technical operators), and 

Dissemination (tailored intelligence reports with mitigation steps and recommendations). 
Building and establishing a security team that can cover the range of threats facing companies today is particularly challenging. It requires identifying the right intelligence feeds and vendors, nurturing and hiring personnel with select skill sets and talents, providing professional development programs, and also coordinating key information among numerous internal stakeholders (engineering, legal, physical protection, etc.) in a universally understood format. 
Nisos is singularly focused on delivering the highest quality intelligence reports and continually vetting and curating the best data sources.
How Nisos Helps Clients
Critical steps in the Managed Intelligence™ process can include: 
Vetting data vendors  

Identifying where threat actors are operating in the digital landscape 

Discovering what digital breadcrumbs threat actors are leaving 

Locating where publicly available content is migrating

Tracking how actors are adjusting their tactics, techniques, and procedures in response to company defenses
Managed Intelligence™ investigation tackles the multitude of sophisticated threats facing clients today, and proves value added in their ability to quickly become subject matter experts to augment internal client security teams. Over time, this subject expertise grows more valuable in the threat actors' tradecraft, identifying the threat actors themselves and wider networks, and then eventually building persistent intelligence databases or portals with client teams for long-term sustainability.
Managed Intelligence™ Services Defined – How We Can Help You
Nisos specializes in Managed Intelligence™. Our service offerings address a wide range of digital and physical threats to businesses, personnel, and geographic locations. 
Our services provide support for incidents or threats that require immediate turn around but don't fall into the traditional visibility of a security team. This could include threats emanating from a new extremist forum requiring vetted access, or a platform abuse incident using a yet undiscovered malicious fraud technique. 
These services cover and combine the vast list of "intelligence" domains (fraud, cyber threat, reputation, platform, third party, and protective), distill what matters, and manage that threat identification cycle for the client. 
If an organization needs long-term persistent coverage or monitoring for an intelligence issue, we offer a team of very specialized experts with robust skill sets, such as OSINT, data science, digital collection, network security, etc. attaching itself to the client's most important issues. 
Nisos will often meet daily or weekly with client security personnel to provide updates and findings. This team may start with an initial request for information (RFI) or collection request articulated by the client, but will quickly move into a cycle of identifying new data locations, new actor identification, network enumeration, and bring this new intelligence into the client's information cycle.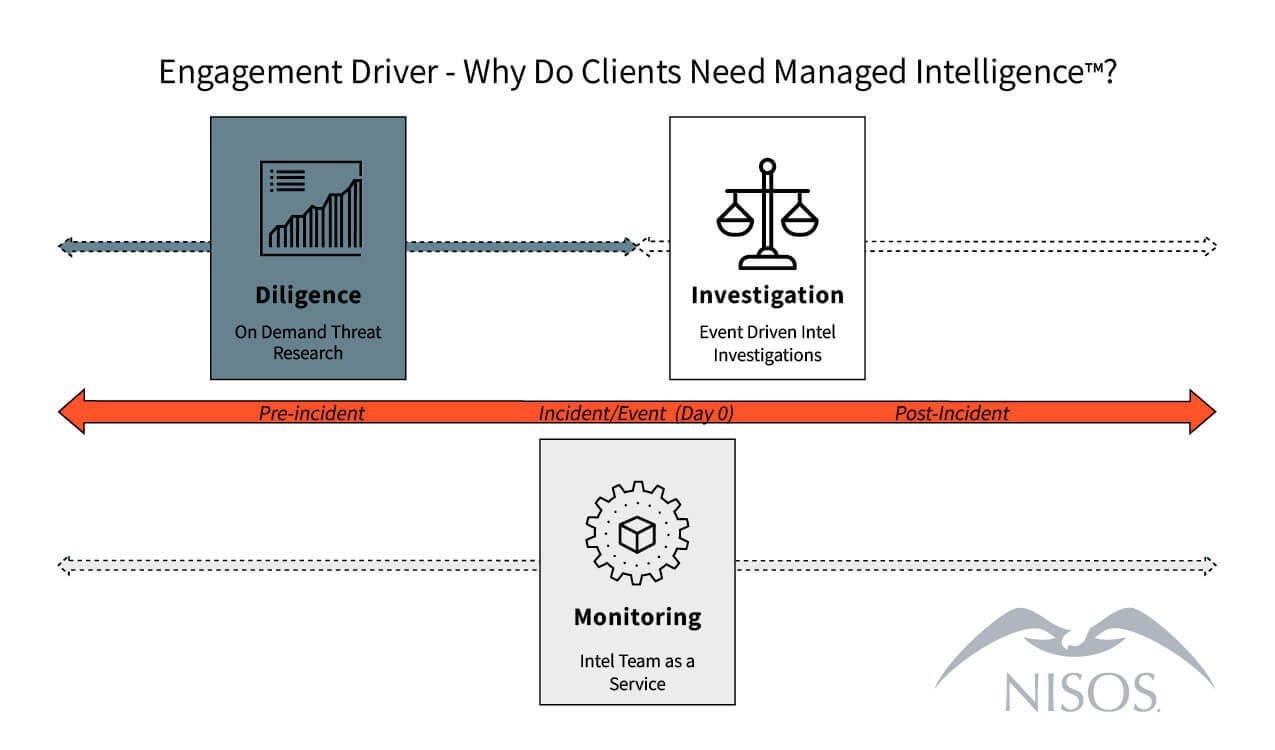 Clients Need A Variety of External Diligence, Investigation, and Monitoring Services to Proactively and Reactively Combat Security Events 
We also bolster Third Party Risk Management. Our Zero-Touch Diligence℠ services give unique insight into the hygiene process related to investments, IPOs, mergers and acquisitions, as well as supply chain and external network non-traditional business risks. When it is necessary to evaluate a subcontracted overseas team or acquisition target, particularly in countries or regions where public records are scarce or don't exist at all, our process of using curated information will identify those red flags that will help decision-makers make a better informed decision. We target collection using various information gathering techniques or public data breaches.
Choosing the Right Service
Clients trust Nisos to deliver managed, multi-source intelligence and expert analysis that is relevant to their organization. Providing more useful intelligence is achieved through our tailored research, which is differentiated from threat intelligence feeds and ad hoc surface level data collection. Nisos can help you strengthen your defenses, unmask your adversaries, and respond quickly to your threat intelligence needs with Managed Intelligence™.
About Nisos
Nisos is The Managed Intelligence Company™. Our services enable security, intelligence, and trust and safety teams to leverage a world-class intelligence capability tailored to their needs. We fuse robust data collection with a deep understanding of the adversarial mindset delivering smarter defense and more effective response against advanced cyber attacks, disinformation, and abuse of digital platforms.
Zero Touch Diligence® combines cybersecurity and OSINT (Open Source Intelligence) expertise to provide deep, current, and comprehensive insight within the context of your specific needs, particularly focusing on third party applications that maintain connections into your environment. By fusing robust analytic methodology with a suite of tools, Nisos facilitates tailored monitoring and professional analysis of complex data sources. These tools collect, store, enrich, and integrate data from a wide variety of sources, which translates into more accurate, validated, and actionable insights delivered to you.
For more information visit: nisos.com email: info@nisos.com | 703-382-8400